Creating Stand out videos has never been easier
1. Identity & Request
Identify the person who will be providing you with a video testimonial and send them a request through your account.
2. Record & Submit
They click on the email link, record their testimonial using their Phone, Table or Computer, submit then they're done!
3. Make Magic & Share
Your logo, music & a call-to-action is automatically added and you have a fully produced video testimonial ready to share!
We offer the tools you need to create 4 of the most desired video types for professionals: video Testimonials, branded videos, video email, and story videos.
Video Testimonials
Video testimonials bring written praises to life.
Video Emails
Engage your clients with Video Email.
Brand Videos
Establish yourself as an industry leader with a well produced branded video.
Story Videos
Capture a Story Video is a guided video review of your products or services for your client.
Start your free 14-day trial today!
After 14-days, pay only $79/month for unlimited videos.
Review Page
Each account has its own unique personalized Video Review page to showcase your top 3 Video Testimonials and gives you the ability to mass-capture video testimonials with ease.
Embed
You can embed the Video Review page directly on your website, allowing your happy clients to submit video testimonials whenever they'd like.
Collect
With the Video Review page, you can collect video testimonials for large campaigns directly from your website.
You will get to preview every Video Review page submission right on your dashboard.
For the videos you like just click "ACCEPT & PRODUCT VIDEO"
Then it goes to work.
For the videos you don't like, just click "Delete."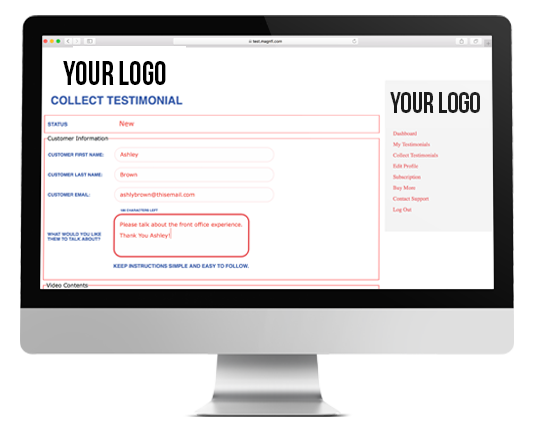 Capture your audience with a powerful video.
View these videos made with the Loyalty Vidz platform.
Customer testimonials have the highest effectiveness rating for content marketing at 89%. (Social Fresh)
Are you ready to get started?